Atlantis Stone Countertops: Elevating Kitchens in MA, RI, and CT with Calacatta Quartz Countertops
"Just had my kitchen counters installed by Atlantis marble and Granite. Trying to purchase new counter tops during this difficult time has been stressful. I contacted many people during this process, some without reply and some not willing to work over the phone. Finally, I made a connection with Rosanna and I told her what I was looking for and she was more than happy to accommodate me any way she could. I sent her our new kitchen design and she promptly came back with some suggestions of what counter tops would be a beautiful addition to our new kitchen design. With many phone calls and text during the week to finalize how I wanted to proceed and the product that would work best with our kitchen design, I made an appointment with her team to finalize the deal. A nice young member of their team came and re-measured everything, and it was the same measurements that Rosanna had worked out and once we agreed to proceed and worked on the best layout plan, he proceeded with making the templates. He was very professional and skilled at his job. Rosanna was the best and the service was prompt and contact was exceptional. The installers were professional and great workmanship the counter tops fit with perfection. I would 100 percent recommend Atlantis to anyone looking for great quality, prices and their overall professionalism and workmanship from the beginning to the end."

Sincerely, Patty D
When it comes to creating exquisite and functional kitchen spaces in Massachusetts, Rhode Island, and Connecticut, Atlantis Stone Countertops has established itself as a trusted partner. Specializing in custom stone countertops, they recently completed a stunning kitchen project featuring Calacatta Quartz countertops with zero radius corners, an undermount sink, and a kitchen island with an eased edge. In this article, we'll delve into the details of this kitchen transformation, showcasing how Atlantis Stone Countertops is dedicated to enhancing the heart of your home.
Calacatta Quartz Elegance
Calacatta Quartz is renowned for its luxurious and timeless appearance, and this project exemplifies its beauty. The countertops in this kitchen feature the stunning veining and white background that make Calacatta Quartz a popular choice. The choice of this material elevates the entire kitchen, creating an elegant and inviting atmosphere.
Zero Radius Corners
The use of zero radius corners in the countertops is a modern design choice that adds a touch of sophistication to the kitchen. These sharp, angular corners create a clean and sleek look that complements contemporary and minimalist aesthetics. Atlantis Stone Countertops' attention to detail in crafting zero radius corners demonstrates their commitment to precision and innovation.
Undermount Sink Integration
An undermount sink is a practical and aesthetically pleasing addition to any kitchen. Atlantis Stone Countertops seamlessly integrated an undermount sink into the Calacatta Quartz countertop. This not only enhances the visual appeal of the kitchen but also simplifies cleaning and maintenance. The undermount sink provides a smooth and uninterrupted surface, making it a functional and stylish choice.
Kitchen Island with Eased Edge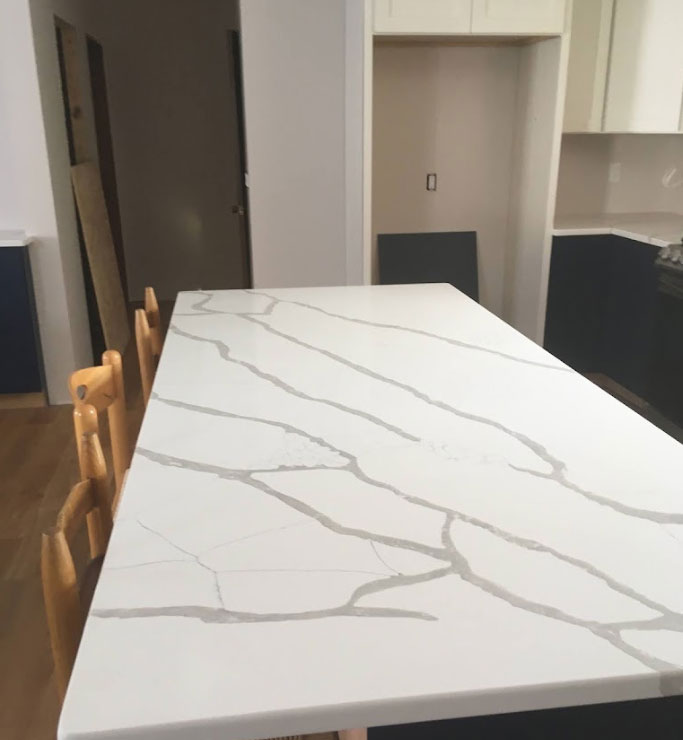 The kitchen island, a central feature of many modern kitchens, received a special touch with an eased edge. An eased edge is a subtly rounded edge profile that ensures safety and comfort while maintaining a sleek and streamlined appearance. This choice complements the overall design of the kitchen and makes the island a focal point of functionality and beauty.
Tailored to Perfection
Atlantis Stone Countertops takes pride in its ability to tailor each project to the homeowner's unique vision. The choice of Calacatta Quartz, zero radius corners, an undermount sink, and an eased edge demonstrates their commitment to understanding and executing the design preferences of their clients. This attention to customization ensures that each kitchen project is a reflection of the homeowner's personality and style.
Expert Craftsmanship
Crafting custom stone countertops requires expertise and precision, and Atlantis Stone Countertops excels in this aspect. Their team of skilled artisans and stone experts ensured that the Calacatta Quartz countertops were fabricated with the utmost care. The meticulous attention to detail and craftsmanship is evident in the final result—a kitchen that is both functional and a work of art.
Customer Satisfaction
At Atlantis Stone Countertops, customer satisfaction is a top priority. Their knowledgeable and friendly team is dedicated to ensuring that the homeowner's experience is smooth and hassle-free. The exceptional craftsmanship, quality materials, and attention to detail have resulted in satisfied customers who appreciate the beauty and functionality of their newly transformed kitchens.
The recent completion of the kitchen project featuring Calacatta Quartz countertops, zero radius corners, an undermount sink, and a kitchen island with an eased edge by Atlantis Stone Countertops is a testament to their commitment to excellence.
Serving Massachusetts, Rhode Island, and Connecticut, they continue to elevate kitchen spaces with their dedication to quality, customization, and expert craftsmanship. Atlantis Stone Countertops understands that the kitchen is the heart of the home and is devoted to creating spaces that are not only stunning but also highly functional. If you're looking to enhance your kitchen with custom stone countertops, Atlantis Stone Countertops is the partner you can trust to bring your vision to life.